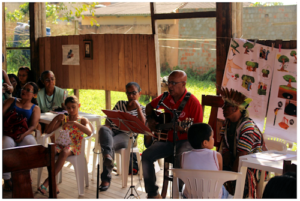 California Governor Jerry Brown has aggressively positioned himself as a global climate leader to fill the vacuum created by the arrival of an ignorant climate change denier in the White House. But not all that glitters is green. The Governor has spent the last months promoting the expansion of complicated market-based carbon trading mechanisms, known as "Cap-and-Trade," as a cornerstone of state and global climate policy — in a move that directly threatens vulnerable communities both in California and abroad.
California's current Cap-and-Trade program is set to expire in 2020. Last summer the state legislature established ambitious and unprecedented emissions reductions goals for 2030, without extending the authorization of Cap-and-Trade. The Governor signed the emission reductions goals into law — but he made it clear that Cap-and-Trade was the primary option he would consider for meeting those goals.
Intertwined with Governor Brown's persistent campaigning for Cap-and-Trade, the oil and gas lobby in California, along with a multitude of industrial manufacturers, the carbon-trading lobby, and a number of business friendly environmental organizations, have also been pushing hard to make the market-based mechanism the foundation of future California climate policy.
This summer Governor Brown has gone into a full-court press to pressure the California legislature to approve a Cap-and-Trade program that would rely heavily on "offsets" — a type of carbon "credit" that a polluter, such as an oil refinery can purchase to legally "neutralize" its pollution — despite the fact that the pollution still occurs. Regardless of the dubious science and documented injustices of offset schemes, Governor Brown, the oil and gas industry, and their allies among a few of the big green groups have continued to aggressively promote the use of offsets as a primary means to achieving California's emission reductions goals.
Among the offset schemes that the Governor and fossil fuel companies such as Shell, BP, and Chevron want incorporated into the state's Cap-and-Trade program are a variety of tropical forest carbon offset which would come from partner jurisdictions around the world, such as Central Kalimantan, Indonesia, or Cross River State, Nigeria. Governor Brown has also continued to operate from a 2010 Memorandum of Understanding signed between California and the states of Chiapas, México and Acre, Brazil back when Arnold Schwarzenegger was governor of California. Acre is specifically highlighted in current proposals as the first tropical forest state with which California plans to "link" its carbon market. The linkage would be based on an international carbon trading program known as Reducing Emissions from Deforestation and Forest Degradation, or REDD. Due to conflicts and human rights concerns regarding indigenous land rights and violations of the right to Free, Prior, and Informed Consent, REDD has become one of the most controversial and high-risk climate policy programs out there.
In facing the development of these market-based policies in far-away places like California, forest communities of the Brazilian Amazon recently held a gathering in the rubber tapper stronghold of Xapuri. Xapuri was the home of the internationally known labor and land rights advocate Chico Mendes, who was assassinated in the late 1980's for opposing road building and other mega-projects in the Amazon. Representatives of indigenous and traditional communities that are currently and potentially affected by REDD projects and associated tropical forest management schemes came together in Xapuri at the end of May to discuss the impacts of climate policy on their access to territory, their forests, and their livelihoods.
Among the organizers of the gathering was Dercy Telles, who worked side by side with Chico Mendes in the years before his assassination. During the gathering Dercy was moved to make a brief video statement for California policy makers and climate activists who may not be aware of the problems with tropical forest carbon offset schemes, and for California activists on the frontlines of day-to-day pollution from California's fossil fuel industry.
In her statement, Dercy describes how their forest communities must fight against policies like REDD that "aim to exterminate rural populations." She minces no words in describing that their communities have come to see these climate policies as "nothing but a bunch of false solutions to global warming issues" "based on lies" and "on selling illusions to the less privileged." The forest people of the Amazon, Dercy says, "want people in California to know that we are fighting the same fight in solidarity" and that "we are going to keep on fighting for as long as we have strength and courage."