Free & open to the public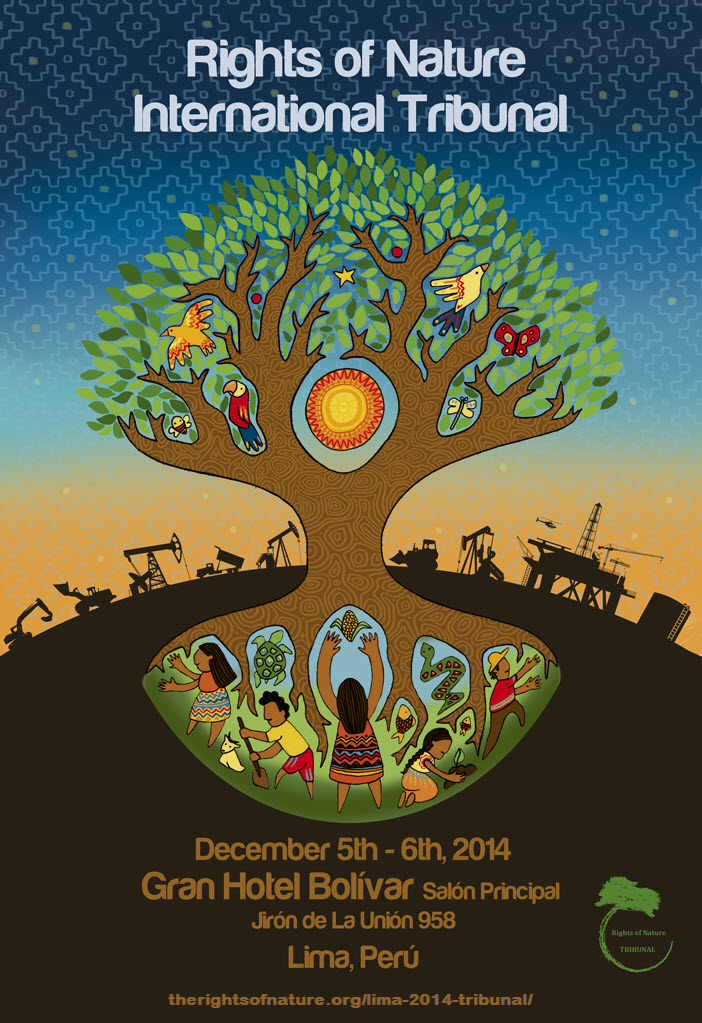 Parallel to the UN FCCC December 2014 meetings in Lima, the Global Alliance convened its second International Rights of Nature Tribunal. The intention was to hear a small number of cases aligned with the UN FCCC COP 20 priorities. Selected cases addressed the impacts of Climate Change, threats to the Great Barrier Reef, destructive oil and mineral extraction in Peru and South America, and protection of Defenders of the Earth such as the Bagua massacre that is on trial this year in Peru.  The Tribunal was dedicated to honor Shuar leader José Isidro Tendetza Antun from Ecuador.
Gran Hotel BolivarA distinguished panel of judges heard the cases in Lima presented by the Prosecutor for the Earth and expert witnesses.  The two day Tribunal was held Friday 5 – Saturday 6 December at the Gran Hotel Bolivar. Gran Hotel Bolivar is in the historical center of Lima on Plaza San Martín and a short walk (1.1 km) to the Alternative Peoples Conference near Parque de la Exposición in central Lima.
Register at International Rights of Nature Tribunal – Lima.
International Rights of Nature Tribunal Background
In January 2014, the Alliance launched the International Rights of Nature Tribunal in Quito, Ecuador in conjunction with the 2014 Global Rights of Nature Summit. The Tribunal is to be a permanent international people's tribunal for Rights of Nature.
For the initial launch in January 2014, nine diverse cases were presented to a distinguished international, multicultural panel of judges. The Universal Declaration of the Rights of Mother Earth, and in selected cases the Ecuadorian Constitution, provided the legal basis for review and judgment. Among the cases were the Chevron-Texaco pollution case (Ecuador); BP Deep Horizon oil spill (USA); Yasuní-ITT oil project (Ecuador); the endangerment of the Great Barrier Reef by coal mines (Australia); hydraulic fracturing  (USA) and the impacts of Climate Change (global). Videos and presentations from the Rights of Nature Tribunal are posted at www.therightsofnature.org/rights-of-nature-tribunal/.  Since the launch, a Chamber convening of the Yasuni-ITT case has presented a verdict in August 2014. See Yasuni Verdict.
Among the distinguished panel of judges are:
Alberto Acosta, economist and former President of the Constituent Assembly from Quito, Ecuador
Raúl Prada Alcoreza, Philosopher, sociologist, author, former member of the Bolivian Constituent Assembly of 2006-2007, Bolivia
Hugo Blanco, Political leader, leader of the Confederación Campesina del Perú, Peru
Tantoo Cardinal, actress (e.g., Dances with Wolves) from the Tar Sands of Canada
Blanca Chancoso, Kichwa leader and educator from Cotacachi, Imbabura, Ecuador
Tom Goldtooth, Dine'/Dakota, director of Indigenous Environmental Network from Minnesota, USA
Francios Houtart, professor, philosopher, theologian, Belgium
Osprey Orielle Lake, Co-Founder and Executive Director, Women's Earth and Climate Network, USA
Edgardo Lander, sociologist, professor, Venezuela
Rocío Silva Santiesteban, National Human Rights Coordinator, author, professor, Perú
Atossa Soltani, founder and Executive Director of Amazon Watch, USA
Terisa Turner, professor Sociology and Anthropology, former UN Energy Specialist, Canada